…a person who has completed an apprenticeship but lacks the experience of a master — a competent yet undistinguished worker.  A journeyman might often travel in order to gather experience, but the "journey" part of the word derives from the french journée meaning "day" because payment was made on a day-to-day basis.  Also associated with the term jack as in "jack of all trades, master of none."  (See more)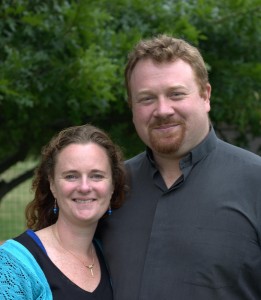 About myself: I am Will Briggs, a worshiper of God, a devotee of Jesus, a husband, a father, a minister in the Anglican Church in Tasmania, Australia.  I grew up on a dairy farm in rural Northern Tasmania and then studied and worked in Computer Systems Engineering.  Before theological study at Ridley College, Melbourne I spent a short time as a staff worker for Youth With A Mission.   Together with my wife and family and a bunch of awesome people we were there at the beginning of the Connections community in the Anglican Parish of Burnie.  I have been a domestic missionary, a curate, a village priest, a church planter and general ecclesiastic.
Currently I am Senior Associate Priest at St. David's Cathedral Hobart, and part-time Research Assistant to Bishop John Harrower.
I am married to Gill and consequently my four children are beautiful, passionate and exciting.  Our aim is to explore and apply the gospel of Jesus in the real world, generously, prayerfully, joyfully, seriously.   The task is ministry to God's people, for the transformation of the church, towards impacting the world in ways that matter eternally.
About this blog: Like the journeyman, the content of this blog is based on no claim of expertise or mastery.  It is, however, a platform for observation, assessment, critique and defense of aspects of society, spirituality and ministry.  The content is unashamedly guided by myself – those things I find interesting, impassioning, or cathartic.  If that also happens to be a blessing to others, so be it.
This site is a record of developing opinion and thought.  It is in that sense that this blog is a journey.  I have attempted to encapsulate some of that journey through the development of topic summaries but it is there in more random ways also.
If there is anything to know about where this journey has gone and is going, all I can say is I value:
An

enlivened Anglican Church

, glorifying God by the gospel of Jesus in the power of the Spirit for the real world of today.
A

generously applicable evangelical theology

where revealed and reasoned truth bear fruit in the life of people and communities.
A

truly pluralist secular society

where freedom is maximised.