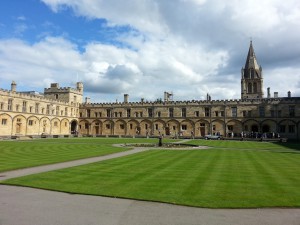 The Diocese of Oxford is currently engaged in the Shared Conversations process about approaches to human sexuality in the Church of England.
I recently had the opportunity to attend a morning's presentation on the issues at Christchurch Oxford.
I am posting in order to provide a link to video recordings of the presentations.
They were thoughtfully and irenically presented. There is not much I can usefully add to the prevalent commentary on this process.  I will only add my thoughts that the morning was more a good articulation of the differences and the divide than a clarification of the way forward. The initial presentation by Scot Peterson was factually useful.  Both Professor Alexander and Dr. Paul put across their points of view clearly and carefully.  I now have more understanding of both sides; it has gently reinforced my agreement with Dr. Paul.
https://vimeo.com/139928603
https://vimeo.com/140174738
https://vimeo.com/140169783