Bound for South Tasmania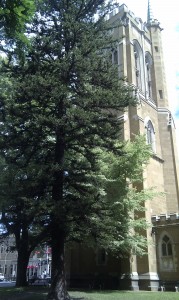 Bishop John has announced that I am to be appointed as the new Senior Associate Priest of St David's Cathedral and as his Research Assistant.
He writes, "Please pray for Will and Gill and their children as they make their move from Burnie to Hobart in August and as they settle in to a new place and new season of their lives", and we would echo that request.  There is much to do by way of logistics and organising schooling and accommodation etc down south as well as getting our house ready to leave here in Somerset.  Please especially pray as we leave the Connections and Burnie church communities and connect with those at the Cathedral and in Hobart.  In all this  we have already seen much of the grace of God in sovereign providential provision and all manner of generosity and for that we are most thankful.
I am looking forward to working with the Dean of Hobart, The Very Reverend and most excellent Richard Humphrey who has a strong vision for the ministry of the cathedral in the city of Hobart.  The opportunity to assist Bishop John as he leads the prophetic voice of the church in the community is also a privilege.  Gill will continue as an honorary deacon and shape her ministry around the opportunities that become apparent.
We will be leaving Burnie with some sadness, of course.  There are wonderful people and an awesome community here, many of whom have been with us and us with them through thick and thin and ups and downs.  We arrived eight and half years ago, when we were in our twenties, with only the first three of our four children. This is where I made many first steps in ministry, and many mistakes, and learned much.  We have walked through some fire and times of pain, but also times of excitement, passion and purpose.  We rejoice in all that God has done, through Connections Church in particular, as well as the other places we have ministered.  We look forward to what God will do through his people on the North West Coast.  In everything there is a testimony of God's grace which we will never be able to forget.
So, onward Christian soldiers! With our eyes on him, the author and perfecter of our faith.

Bound for South Tasmania by Will Briggs is licensed under a Creative Commons Attribution-NonCommercial-ShareAlike 4.0 International License.